Prince Charles visits troops on Salisbury Plain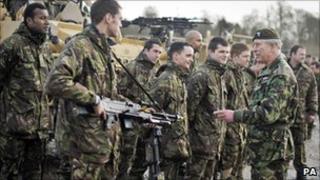 The Prince of Wales has met service personnel in Wiltshire ahead of their tour of duty to Afghanistan.
Prince Charles visited soldiers from the 3rd Battalion The Mercian Regiment on Salisbury Plain on Monday.
The regiment, an armoured infantry battalion based in Germany, is taking part in its final training exercise before deployment in March.
As Colonel in Chief of the Mercians, the prince met soldiers who will work under Task Force Helmand.
He was given updates about the unit and learned about the training the battalion is undertaking.
Afterwards he met members of the company in the cook house and was shown some of the unit's equipment.
The battalion is to deploy to the Nahr e Saraj area of Helmand province for the six-month tour.
Commanding officer Lieutenant Colonel Giles Woodhouse said: "I am hugely proud to be taking the men on operations in Afghanistan.
"It's a huge honour and challenge but it's one I feel we are ready for."