Swindon cardboard sign woman to start call centre job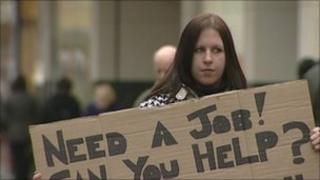 A teenager who carried a cardboard sign around Swindon asking for work after being unemployed for a year has found a job as a result.
Hanna Evans, 19, resorted to carrying the placard showing her phone number two weeks ago after a conventional job hunt proved unsuccessful.
She said she starts her new £14,000 job in a call centre next week and is "ever so happy".
The company, E.on, contacted Hanna after seeing her number on the sign.
"I start on 14th February and I'm ever so happy," she said. "It's good money and great hours.
"They [E.on] saw my number and called me and offered me an interview.
"They told me they really wanted to bring me in after seeing my enthusiasm.
"A lot of people have contacted me to give me advice - and also people who are in the same position. I told them I would recommend doing what I did because I tried all the normal ways and didn't get anywhere."
She said she would be spending the week before starting her job checking the route to work, preparing her clothes and practising her tele-sales voice.