Swindon cardboard job sign woman secures two interviews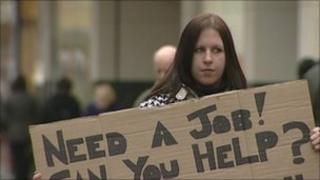 An unemployed teenager who has been carrying a cardboard placard around Swindon asking people to employ her, has two interviews lined up.
Hanna Evans, 19, has been out of work for a year and is on benefits. She said life had become "very hectic" since her plea for work on Monday.
She said: "I've had lots of phone calls. My interview next Monday is for a call-centre job.
"I'm so excited - it's a job I want."
Ms Evans, who lives with her boyfriend in the Pinehurst area of the town, said: "I don't regret doing what I did and I have had lots of calls of support.
'Prank calls'
"It got to the point where I'd been turned down so many times. I thought I've had enough - what's the most desperate thing I can do?
"I do kind of regret putting my mobile phone number on there due to the amount of prank calls I got.
"But at the end of the day, I'm happy to put myself out there to show how much I want to work."
Phil Rice, 65, from Malmesbury tried a similar approach 19 years ago when he was made redundant.
He was filmed by BBC regional television news in 1992 when he put his CV under car windscreens in Bristol and Bath after being made redundant.
Mr Rice, who now works at Malmesbury Town Council, said he found a job four months after his job hunt and has never been out of work since.
He said: "I wish Hanna all the best. When I saw what she had done on the news, I thought good for you. It brought it all back to me."
For more on this, watch the Politics Show West on BBC1 on Sunday at 1200 BST.