Swindon Scrapstore charity finds bigger HQ after fire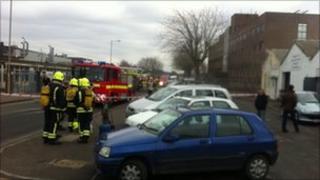 A charity which was made homeless after its headquarters in Swindon was damaged in a fire has now found new premises.
The Children's Scrapstore had been based on Cheney Manor Industrial Estate until its building was destroyed in the blaze on 4 January.
The organisation will now move to the former Farepak building in west Swindon, which it said was "26 times bigger" than its previous site.
The charity employs five members of staff and has 12 volunteers.
The environmental charity collects unwanted materials from businesses and gives them to local children's groups.
'Environmental centre'
Olivia McCann, Scrapstore project manager, said: "We're very glad. It's much bigger so we can expand our current projects and develop some new projects.
"The old Scrapstore was about 1,000 square feet. This is 26,000 square feet - so 26 times bigger.
"We do want to make this Scrapstore into Swindon's environmental centre. There's enough space so we should be able to do it."
She said there were also plans to offer art and craft workshops and to set up a cafe on the site.