Archaeologists survey Churchill's secret headquarters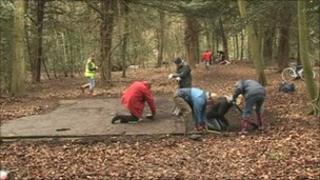 Archaeologists are surveying the remains of Winston Churchill's secret headquarters in the hope of uncovering a new underground operations base.
The Coleshill estate was the English headquarters of a highly trained guerrilla volunteer force during World War II.
The house and its grounds, on the Oxfordshire/Wiltshire border, are now owned by the National Trust.
The survey has been organised by the Coleshill Auxiliary Research Team.
The team was set up by Tom Sykes to research, document and preserve the history of the guerrilla volunteer force, known as auxiliary units.
The units were set up to hamper a successful invasion by the German army.
Mr Sykes, who is leading the project with local landscape archaeologist John Winterburn, said: "There is a large area of woodland to cover and we have some real experts on hand to help us.
"We feel it is crucial that the site is surveyed completely and this forms part of our ongoing commitment to researching these brave men and women."
The findings will be published on the team's website.
Other groups involved in the survey include the Ridgeway Military and Aviation Research Group, Subterranea Britannica, Great War Archaeology Group and members of the University of Bristol.