Swindon Great Western Hospital parking changes on hold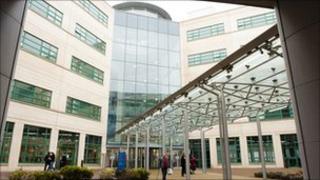 Changes to alleviate parking problems at Swindon's Great Western Hospital have been put on hold until May.
Plans to increase parking charges and reduce the number of staff parking permits had been set to come into force this month.
Mark Bagnall, the hospital's director of estates, said staff needed more time to make other travel plans.
He said last year that staff had been finding it increasingly difficult to find a parking space.
Staff parking charges are set to increase from £5 a month to £1 a day, and a pay-on-exit scheme will be brought in for patients.
Mr Bagnall said: "Some people have made tremendous efforts and they've managed to get arrangements in place and that's great.
"Other people are still trying to understand some of the impact that will have on them and I've done several sessions even this week trying to help people understand."
The changes will now come into effect on 9 May.