Diocese appoints first woman Archdeacon of Malmesbury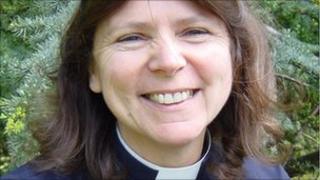 A new Archdeacon of Malmesbury has been appointed by the Diocese of Bristol, who is the first woman to hold the senior clergy post.
The Reverend Canon Christine Froude, who is currently the priest in charge at St Mary's Church in Shirehampton, Bristol will take up the role in April.
She will provide support to parishes and clergy in South Gloucestershire, North Wiltshire, Swindon and Bristol.
Mrs Froude, 63, is also a member of the Bishop of Bristol's staff team.
She said: "I am mindful of the responsibilities but also the many opportunities that this role offers and am delighted to be the first woman Archdeacon in the Diocese of Bristol, where I was ordained."
The Right Reverend Mike Hall, Bishop of Bristol, said: "Throughout a rigorous selection process, Christine consistently showed herself to be the person best equipped for this important role in the life of the Church."
Mrs Froude will be installed and collated on 21 April.