M4 searched in Wiltshire over missing Donavan Van Lill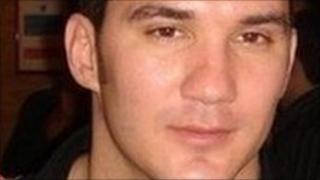 Police have searched land beside the M4 in Wiltshire in connection with the disappearance of a man almost a year ago.
Donavan Van Lill, 29, a South African, was last seen in Chippenham on 3 March 2010. A man has been charged with murder, but no body has been found.
The inside lane and hard shoulder of a two-mile (3.6km) stretch of the M4 eastbound from junction 17 were shut.
The search started at 0900 GMT and was completed just after 1500 GMT.
Det Insp Matt Davey, from Wiltshire Police, said: "As part of our ongoing investigation into the murder of Donavan Van Lill, specialist officers will be searching a section of land alongside the M4.
"We make every effort to avoid closing roads, especially restricting the lanes of a motorway and we have worked closely with the Highways Agency to identify a suitable day for the search.
"This forms part of a wider search strategy rather than being conducted because of specific information received.
"It forms part of the ongoing murder investigation. I know the public will understand we have to follow every line of inquiry and would want us to do this if it was one of their loved ones we were looking for."
Police said they were continuing their appeal for information in relation to the case and asked anyone who could help to contact them.
Martin David Sugden, 42, of Clanville Bar, Stanton St Quinton, pleaded not guilty to murdering Donavan Van Lill at Bristol Crown Court in July.
His trial is due to start in Bristol on 14 March.