Second RAF Hercules aircraft to be transported by road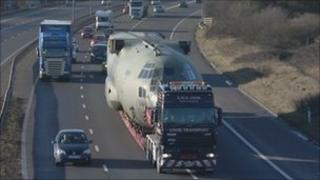 Motorists are being warned two large loads consisting of a Hercules C130 aircraft fuselage and its wings will be moving from Wiltshire to Staffordshire on Sunday.
The two transporters will be slow moving and may cause congestion.
They will be escorted by Wiltshire Police officers from RAF Lyneham to Hixon airfield, in Staffordshire.
Another Hercules was transported in the same way last weekend and a third will be moved on 23 January.
One of the loads weighs 60 tonnes and the other weighs 44 tonnes.
A police spokesman said: "This is one of the largest conventional loads to use the A3102, and due to their huge size they will be escorted by officers."