Grit bin applications turned down by Wiltshire council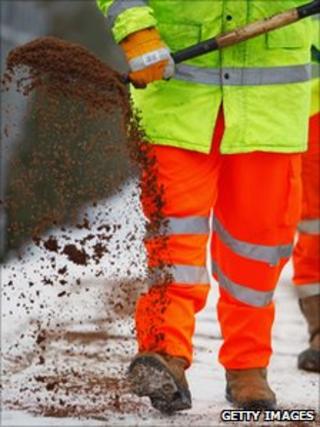 More than 300 applications for new grit bins in Wiltshire have been turned down.
Wiltshire Council says it can provide 100 new bins for minor roads in the county.
Ernie Clark, Independent councillor for the Hilperton division, near Trowbridge, said the area had applied for 17 bins but was granted one.
The council said all parishes had also been offered a one tonne bag of salt.
Mr Clark said: "After last winter a lot of parish councils realised they didn't have enough grit bins for local residents.
"One probably isn't even enough for this village let alone the rest of the Trowbridge area."
Wiltshire Council said budget restrictions and its policy were the reason for the limit.
Graeme Hay, the authority's services manager, said: "We have invested quite heavily over the last few years in gritting equipment."
He said the authority had written to all parish councils in the county offering them a one tonne bag of salt to top up, and hand spreaders.
Gritting trucks have been out on main roads after temperatures fell to -6C in parts of the county over night.