Appeal to track Wiltshire court absconder 'Guitar Dave'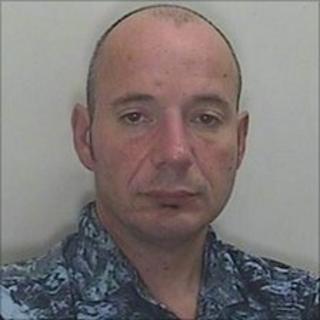 Members of the public are being asked to help police track down a man who absconded from a Wiltshire court.
John Edwin Oliver, 43, also known as Guitar Dave, left Salisbury Crown Court on 20 April.
It was the first day of his trial for possession of an imitation firearm with intent to cause fear, and aggravated bodily harm.
He has since been found guilty in his absence. The judge issued a warrant for his arrest.
A Wiltshire Police spokesman said officers had so far failed to trace him. The spokesman said he did not know how Oliver had absconded.
He said Oliver has friends in London and might be staying on various people's sofas.
He is also believed to sometimes do gardening and odd jobs in return for food and somewhere to stay.
Anyone who knows his whereabouts is asked to contact the force.