Policeman filmed throwing woman into cell starts appeal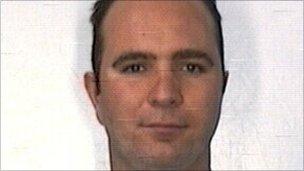 A police officer jailed for six months after he was caught on CCTV throwing a woman into a cell has begun an appeal against his conviction.
Sgt Mark Andrews, 37, was filmed dragging Pamela Somerville, 59, through Melksham police station in Wiltshire.
He was jailed in September after being found guilty of causing her actual bodily harm following a trial in July.
Andrews spent six days in prison, but was released on unconditional bail pending his appeal.
Ms Somerville was badly injured in the incident in July 2008 and needed stitches to a gash above her eye.
She was arrested after being found asleep in her car and had been detained for failing to provide a sample for a breath test.
She denied any wrongdoing and the charges against her were later dropped due to insufficient evidence.
The appeal hearing at Oxford Crown Court is expected to last a week.
Related Internet Links
The BBC is not responsible for the content of external sites.