Sheltered housing residents worried about 'warden cuts'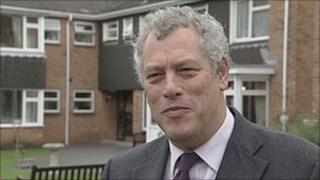 People living in sheltered housing in Wiltshire say they are worried that the warden service will be reduced.
Wiltshire Council says it is facing increasing demand due to people living longer, but needs to cut its budget.
Wendy Luckett, who lives at Kestrel Court in Melksham, said she was worried costs would rise.
The council says the service will be made more efficient. Funding from the government is to be reduced by 7.1% each year over four years.
Conservative councillor John Thomson, deputy leader of Wiltshire Council, said the service would not be cut.
'Bring service together'
He said: "We've got people in sheltered housing who in the morning you get someone come and make sure they're OK from one organisation.
"Then social care comes and washes their feet and gets them up, then health turns up and puts a bandage on their arm."
He said he wanted to implement "a more joined-up service".
"What I want to do is bring that service together so instead of three people going to one person you get three people going to three people," he said.