Swindon Salvation Army hall could be closed for months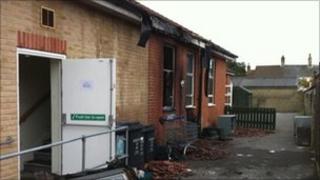 A Salvation Army hall in Wiltshire could be closed for up to six months following a fire.
The blaze is thought to have started in rubbish bins outside the building in Gorse Hill in Swindon on Saturday evening.
It then spread to the roof of a community room. Police said officers were treating the incident as arson.
Major Fred Thompson, who works at the hall, said the blaze had been "absolutely devastating".
He said: "Outside may not look so bad but come inside and see our loft and all our equipment totally destroyed.
"I can only hope that those who did this didn't do it believing this could happen.
"I think it's a prank gone wrong. But it really has hurt us."