Children 'may have photos of body in Swindon stream'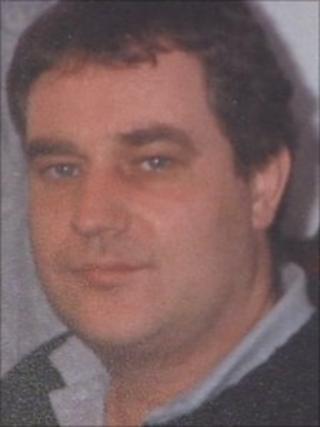 Children may have taken photographs of a man's body found floating in a Swindon stream.
Two men have been arrested over the murder of Robert Wilshire, 47, whose body was found in the stream opposite Dorcan Technology College on Monday.
Police have now appealed for anyone who took pictures to come forward as they may help the investigation.
Det Ch Insp Sean Memory said those coming forward to say they had taken photographs were not in trouble.
A post-mortem examination has revealed that Mr Wilshire, of Galsworthy Close, died from head injuries.
Police are trying to establish his movements between making a mobile phone call at 0430 BST on Sunday and his body being discovered at 1500 BST on Monday.
'Vital images'
Det Ch Insp Memory said: "I am appealing for anyone who may have seen Mr Wilshire or spoken to him during this time to come forward.
"I am especially keen to speak to anyone including any school pupils who were at the scene and who may have taken photographs or video footage before the police arrived.
"I can understand the reluctance of anyone who has taken photos or video to come forward but I want to take this opportunity to reassure them that they are not in any trouble, but these images may be vital to our investigation and I urge you to come forward and make contact with us.
"If appropriate speak to your parents or teachers and I again emphasise that you are not in any trouble."
It is thought the pictures may have been published on social-networking sites.
Scott Sissons, head teacher at the college, said he did not believe any photographs were taken before 1500 BST.
One boy, who was found to have taken a picture, had deleted it from his phone before teachers had a chance to speak to him, Mr Sissons said.
"On Monday, when some of the students were just walking out the school gates, one of our Year 8 students actually saw what she thought was a body," he said.
"She called her friends back and confirmed it was actually a body and ran straight back into school to find a teacher and tell them.
"By the time she got back out, another teacher and a large group of students had gathered around the site and somebody had rung the emergency services."
Mr Sissons said: "The teacher actually got into the stream and checked for any signs of life. By the time he had done that the ambulance had arrived.
"At the moment, what we're doing with the police is seeing if there were any other students who took photographs."
He said eight pupils had taken up the offer of counselling following the incident.
The arrested men, aged 53 and 48, are being interviewed at Swindon police station.