Salvation Army building in Swindon damaged by fire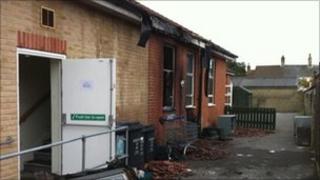 More than 40 firefighters spent the night at a Salvation Army building in Swindon after it caught light.
The fire is thought to have started in rubbish bins outside the building in Gorse Hill on Saturday evening.
A Wiltshire Fire and Rescue Service spokesman said the blaze then spread to the roof of a community room.
"When crews arrived they were confronted by a serious fire. Conditions were very dangerous for firefighters initially," he said.
'Challenging incident'
"It remained hazardous for fire crews throughout the incident but they managed to prevent the fire from spreading into other parts of the building.
"This was a very challenging incident which required a lot of our resources to deal with safely.
"Fire crews were on site throughout the night and will complete their operations Sunday morning."
Major Fred Thompson, from the Salvation Army, said there would be no services on Sunday.
"There's a lot of water damage to the hall and the fire investigation officers needs to come in," he said.
"It will mean this week our activities, especially for community groups, won't be happening.
"Until I see the damage later this morning I won't know how long it will have to be out of commission."