Wiltshire speed watch scheme 'helps to fill camera gap'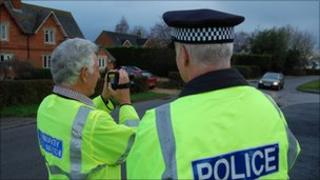 Speeding motorists in Wiltshire are still being caught, despite the disbandment of the county's speed camera unit, council bosses have said.
Concerns were raised when the closure - due to government funding cuts - was announced last month.
Community Speed Watch (CSW) schemes were monitoring and helping to catch persistent speeders, the council said.
Vehicle details and movements are passed to Wiltshire Police who target the drivers using the information.
Most recently, three were fined in the village of Dauntsey near Malmesbury and given penalty points on their licences.
The CSW scheme, which is supported by Wiltshire Council and Wiltshire Police, trains residents to use hand-held devices to monitor the speed of vehicles in their local communities.
Five drivers in Dauntsey were monitored on three separate occasions exceeding the speed limit.
The council said the fact that some people had been caught speeding using the CSW scheme showed it was still worthwhile despite the abolition of the Wiltshire Safety Camera Unit.