Drink-drive man jailed over crash in Wiltshire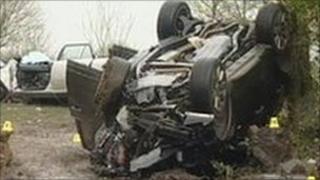 A drink driver who left a mother in an unconscious state for six months has been jailed for a year.
Carey Last, 52, from Kingsdown, Wiltshire, was injured in a crash in the village in March.
Swindon Crown Court heard that Gregory Kinsella, 29, of Pewsey, was more than twice over the drink-drive limit when his Range Rover hit Ms Last's car.
Judge Euan Ambrose told him: "Quite simply you shouldn't have been behind the wheel that morning."
Overshot junction
The court heard that Irish-born Kinsella had been drinking the night before the accident and was rushing to get to work.
His vehicle overtook a school bus in a narrow lane outside Kingsdown Golf Club, near Box, before overshooting a T-junction and hitting Ms Last's Toyota Avensis, injuring her and her two sons.
Ms Last suffered serious head injuries and the court heard she still has not fully regained consciousness.
She is currently being treated in the Royal National Hospital for Rheumatic Diseases in Bath, which has a unit specialising in rehabilitating brain injured people.
Her sons Andrew Gay, who was 15 at the time of the crash, and Ryan Gay, 13, also suffered serious injuries but have since largely recovered.
Mrs Last was taking the boys to school in Corsham when the accident occurred.
Paramedics called to the scene said they had never come across a scene of such devastation.
Kinsella, an event rider, admitted dangerous driving and driving with excess alcohol.
His solicitor told the court that his client was "full of remorse" for the crash on 30 March.