Swindon farmer uses bras to support farm's melons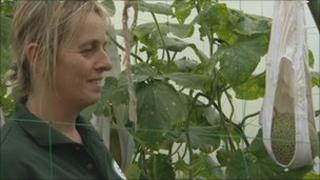 A Swindon farmer has taken to using customers' bras to support the melons she grows on her farm.
Rowie Meers, of Purton House Organics, started growing galia melons this year but found the heavy fruit were falling off and getting damaged.
So she put out a request for customers to send her their unwanted underwear to suspend the melons.
"The smaller bras, the melons spill out of them, so we need the DD cup which sort of cradles them nicely," she said.
The 45-year-old said: "I'd heard of it a long time ago so I can't really say it was my idea, we just needed something to suspend the melons so I thought it just seemed logical.
"We put out a plea saying anyone who's got any old bras they want to get rid of to send them into us and we'll use them to suspend our melons.
"After a while we were getting sent in bras that weren't actually doing the job properly, so we do say the Cross Your Heart-type."
She said she began growing the fruit as an experiment which had been very successful.
Next year she hopes to start producing watermelons as well, although she said they would probably require an FF cup.