Protest at sand and gravel mining proposal in Wiltshire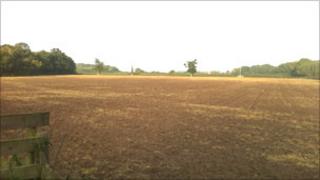 Residents of a Wiltshire village where 300 acres of farmland have been earmarked for sand and gravel extraction are protesting at the plans.
Bromham, near Devizes, is one of some 60 sites in Wiltshire that are being looked at as part of a public consultation for mineral extraction.
Campaigner Linda Dymott said it would be "terrible" if the farmland was destroyed.
Wiltshire Council said there was a long way to go before any sites were chosen.
Ms Dymott, who lives close to the Bromham site, added: "The public consultation has been extended which we welcome, because it will give everyone time to understand what we have here and what we potentially stand to lose.
"We are aware this is only a proposal but this will affect so many people."
Another resident, Stephen Simmonds, said he was concerned that a quarry would ruin the look of the village.
"It's a very beautiful area and you have to ask if the people sitting in County Hall making these decisions have walked some of the footpaths and looked at the area they are proposing to destroy."
Wiltshire Council spokesman Councillor John Brady said the county already had a number of sites which were used for sand and gravel extraction.
'Environmental impact'
He said the council was mandated by the government to have a reserve supply of sand and gravel.
"The existing sites will not deliver sufficient that we require in the time period up to 2026 so we are looking at alternative sites
"The aim of the consultation is to identify the right sites and locations that can deliver without environmental impact.
"I would share the residents' surprise if it [Bromham] eventually emerged as a preferred site but it has been chosen because geologically there's a lot of sand there."
The public consultation continues until 31 October with full details available on Wiltshire Council's website.