CCTV of Trowbridge bottle attack suspects released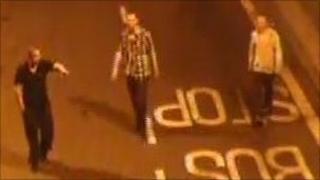 CCTV images of three suspects in a bottle attack in Trowbridge have been released by police.
The victim, a 26-year-old man, needed 18 staples inserted into a head wound after he was hit with the bottle on Wicker Hill.
He also suffered extensive bruising to his head, face and chest in the attack which left him semi-conscious.
Police said their inquiries suggested at least one of the attackers may be a boxer.
Officers said the victim's injuries would have been more serious if his brother had not intervened and administered first aid.
They said the attack happened at about 0410 BST on 11 July after the victim and his brother left the Courthouse pub.
The three attackers were described as white, aged in their late teens or early 20s, with short hair and muscular frames.
The attacker with the bottle had fair hair and was shorter than the other two men, who had dark hair.