Microlights flypast in Wootton Bassett tribute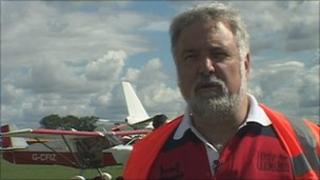 More than 100 microlight aircraft have taken to the skies above Wootton Bassett in a tribute to the armed services.
The flypast was also aimed at showing support for the people of the town who always line the streets when troops are repatriated through nearby RAF Lyneham.
The British Microlight Aircraft Association (BMAA) hopes the event will encourage donations to the Help for Heroes campaign.
Flights started from Cotswold Airport.
Thousands of bikers rode through the town in March in a similar tribute to soldiers killed in Afghanistan.
Kim Taylor, BMAA's safety officer, said that event had inspired the flypast idea.
"We just wanted to acknowledge, in our own way, all that these people do for us," he said.
"We owe a huge amount to staff at RAF Lyneham who have helped us plan this event and allowed us into their airspace to do the flypast.
"We are also immensely grateful to Cotswold Airport who have allowed all of the aircraft to gather there for the flypast and have waived all of the normal fees for us into the bargain."
Microlight pilot Dave Haigh said: "Seeing the people of Wootton Bassett, who are just stunningly brilliant, coming into the streets to say thank you, this was just our way of saying thank you to them for all the support they must give the families."