Durham Light Infantry memorial for Market Place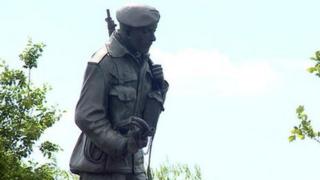 A memorial honouring the Durham Light Infantry is to be installed in the regiment's home city.
The bronze sculpture of a single soldier mirrors one at the National Arboretum in Staffordshire.
Trial holes have been dug to test ground conditions in Market Place, and installation is due to start in August for an unveiling ceremony in September.
A spokesman for the council described it as "a valued feature for both the city and the county".
The sculpture by Edinburgh sculptor Alan Herriot, symbolises the poignant moment after DLI Buglers sounded the ceasefire in Korea in 1953.
This conflict was the regiment's last battle honours.
Colonel Arthur Charlton said: "This is great news that we have now have approval for what will be a fitting memorial recognising the history of the County Durham's own regiment."