CCTV cameras protecting Christmas trees are stolen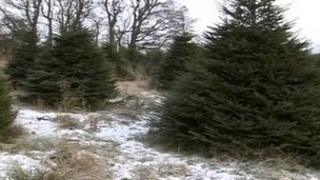 CCTV cameras installed to catch thieves stealing Christmas trees in County Durham have themselves been stolen.
Following the theft of six 7ft trees from the Pennington Plantation in Hamsterley Forest, rangers installed a camera.
This was later taken, as were two other trees and a second camera.
The Forestry Commission said it would invest in equipment which can download to a separate computer. The stolen cameras recorded to internal memory.
Therefore no image could be used to help catch the thieves.
Forest ranger Neil Taylor said: "We've had cases of people stopping on the roadside and cutting down random trees.
'Hefty trees'
"But this is obviously more targeted, either to supply family and friends or sell on.
"They are quite hefty trees, you're not going to shift them by hand, it would require manpower."
As well as the new equipment, the Forestry Commission will also increase patrols, with staff watching entry sites to the plantation, which should only be accessible to authorised vehicles.
Mr Taylor said although there was a financial loss involved, there was more of an "annoyance factor".
"We've been managing them for the past seven to 10 years," he said.
"Someone has just pinched them, without doing all the work we've put in to make them decent Christmas trees."