Durham's Prebends Bridge to close to traffic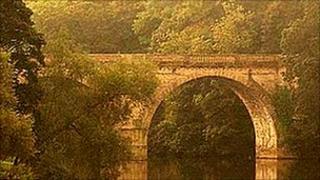 An 18th Century bridge in Durham is to be permanently closed to traffic.
Stonework on Prebends Bridge was found to have eroded, and there was concern that masonry could fall into the River Wear.
However the Grade-I listed structure, which is owned by Durham Cathedral, will still be used as a footbridge.
One option for repair, if English Heritage approves, is the injection of epoxy resin, and fundraising is ongoing to cover the estimated £200,000 cost.
Kay Kirby, head of development at Durham Cathedral, said: "The cathedral as the owner of the bridge bears the weight of responsibility, but obviously it is part of our backdrop, part of the iconic image as you look out across the river.
"it is also used very much by people and other key organisations in the city, so we very much hope we can take a partnership approach."
She described the repair project as "a very special one".
"Not only is it Grade I-listed, but it's a scheduled ancient monument," she said.
"So we shall do everything we can to bring it back into the condition it should be in."