Deal signed for Sunderland's Roker Pier gates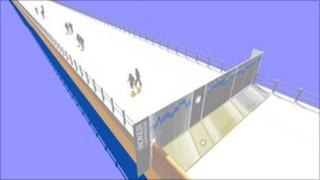 A contract to install a new glass and steel entrance to Sunderland's Roker Pier has been finalised.
The £75,000 project, funded by Sunderland City Council, is expected to get under way later this year.
The gates, made from a series of polished stainless steel posts and toughened glass panels, were hailed as "classy and contemporary".
Washington-based Architectural Metalworkers has been awarded the contract to manufacture the gates.
The pier and lighthouse are a Grade II listed structure. The pier took 18 years to build and opened in 1903.
Sunderland was awarded £1m from the Commission for the Built Environment (CABE) to revamp the area and was boosted by £500,000 of extra funding from the city council.