Derelict buildings at Sunderland hospital demolished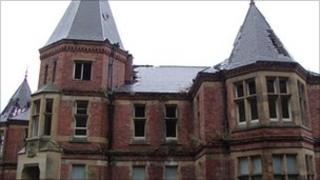 Bulldozers have moved in to demolish derelict buildings at a Sunderland hospital site.
The buildings at Cherry Knowle hospital are being flattened to make way for hundreds of new houses in plans by the Homes and Communities Agency.
Among the structures to be demolished are the Laurels building, which has been empty since the 1990s.
Demolition experts said there were a number of issues, including the safe removal of bats.
A planning application for the houses is expected to be submitted later this year.
Northumberland, Tyne and Wear NHS Foundation Trust is working on a £50m plan for new facilities at Ryhope Hospital and at nearby Monkwearmouth Hospital.
Trust chairman Jules Preston said: "The Laurels has been a landmark building and a vital part of the local community for over a century. It provided both employment and vital care for local people,"
"However, it was built in Victorian times when mental health and disability services were very different from what they are today.
"The new hospital will be purpose-built, designed around the care and treatment needs of our service users. It will help to modernise essential mental health and disability services."