Grazing Exmoor ponies to protect County Durham flowers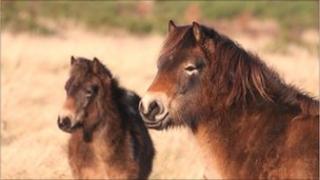 Exmoor ponies are being brought in to protect wildflowers in County Durham.
The six ponies will arrive at their new home alongside the Deerness Valley Way Railway Path on Thursday.
The area, which was used for opencast mining in the 1970s, is rich in wildflowers but they are under threat from the growth of bracken and grasses.
The ponies will graze on those plants and Durham County Council ecologists hope that will allow the flowers to flourish.
Council ecologist Stuart Priestley said: "As well as having significant benefits for biodiversity the project will also help to conserve the Exmoor pony, by providing Britain's prehistoric pony with a valuable role in conservation grazing."
The ponies are from the charity the Moorland Mousie Trust, which works to protect the breed.