Hoodie tribute to Washington stab victim Jordan Cooper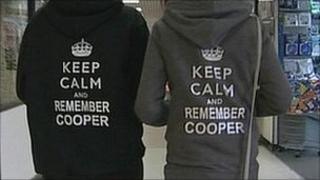 The friends of a teenage murder victim are wearing specially printed hoodies as a tribute to him.
Jordan Cooper was found with stab wounds at a house in Washington, Tyne and Wear, on Tuesday. A man has been charged with his murder.
A local businessman is printing the hoodies free of charge but inviting youngsters to make a donation to a memorial fund for the 14-year-old.
The hoodies bear the slogan: "Keep calm and remember Cooper".
The unusual tribute is described as a visual way for the teenage community to commemorate him.
Almost £500 has been raised so far.
Paul McLaren, from Printing Mad, said: "It's amazing how many kids have actually come in.
"We had to turn them away the other night because the centre was about to close."