Heating oil thieves target County Durham farm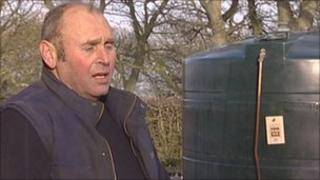 A County Durham farmer has told how he had fuel oil taken from his land.
The price of the fuel has risen by 70% in recent months and criminals are said to be using increasingly sophisticated tactics to target isolated homes.
Brian Rutherford has a beef and sheep farm in Old Cassop where some people rely on fuel oil to heat their homes.
A 2,000 litre fuel tank can hold £1,200-worth of fuel. Insurance companies have warned people to try to disguise tanks and be vigilant.
Mr Rutherford said: "We had a delivery Christmas and New Year when the weather was bad, so we had plenty.
"We think it was stolen around New Year's Eve. it was the only night when there was nobody in the house."
He said the thieves had been back once or twice since, and the family was now using coal because the tank was empty.
'Review policies'
Claire Sedgewick from insurance firm, NFU Mutual, said a recent NFU crime survey showed heating fuel was in the top six of those items stolen from rural communities.
She advised those with tanks to use padlocks, disguise with shrubs, use security lighting and be vigilant.
She added: "Also review insurance policies to ensure there is sufficient cover should the event happen."
More than 1.5m homes across the UK, mostly in rural areas, are dependent on heating oil.