Plans made to replace Durham's congestion toll bollard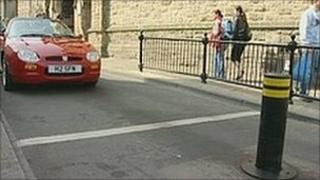 A bollard hailed as being part of Britain's first congestion-charging system could be replaced by a camera.
The retractable barrier in Durham city centre was installed in 2002.
Motorists have to pay to exit the controlled zone and drive over it, but there have been claims it has caused damage to a number of cars.
As part of a major refurbishment of the historic market place, the council is consulting residents and local businesses on alternatives.
Adrian White, the council's head of transport, said: "We were the first in the country to introduce congestion charging and the bollard was considered to be the best thing at the time.
"But the technology has moved on.
"We're looking at camera technology, automatic numberplate recognition, which works very successfully elsewhere and that is probably our favoured solution."