Record year for Sunderland Nissan plant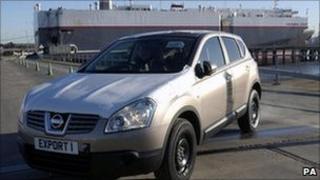 The Nissan plant at Sunderland has had a record year, accounting for more than one in three of all passenger cars produced in the UK in 2010.
Figures from the Society of Motor Manufacturers and Traders showed that it manufactured 423,262 units in 2010, of which 81% were exported.
This beats the previous record of 386,555 in 2008.
The company said it was driven by the continuing success of models such as the Nissan Qashqai.
Production was boosted by the addition of a third shift to the line in May, bringing the annual figure to 271,188.
In August, work began on Nissan Jukes, with 44,622 manufactured.
The Nissan Note, which shares a production line with the Juke, also performed strongly.
'Superb achievement'
However, production of the Nissan Micra ceased in July after 18 years, moving to India.
On Tuesday, the plant passed its latest manufacturing milestone, with its six-millionth vehicle since operations began in 1986 - a red Nissan Juke.
Vice president for manufacturing in the UK, Kevin Fitzpatrick, said the figures represented "a superb achievement by our workforce".
"This performance also reflects the popularity of the models we are producing in Sunderland," he said.
"By focusing on cost competitiveness, quality and being responsive to fluctuating customer demand, we have experienced significant growth in our operation where others have declined."