Rare Shakespeare folio on display at Durham University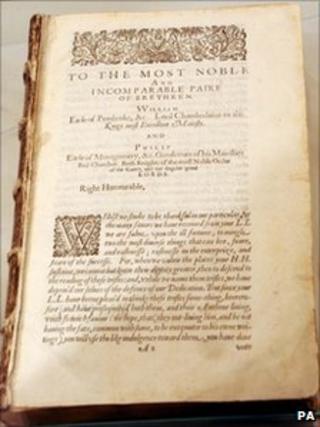 A rare folio of Shakespeare's work is going on display at Durham University in the damaged state it was left in after being stolen.
The 1623 first edition of the bard's work was stolen from the university in 1998.
Its bindings and a number of pages were removed to try to disguise its origins and that is the condition visitors to an exhibition will see.
It will be conserved to protect it from further damage after the exhibition.
Raymond Scott, 53, of Wingate, County Durham, was cleared of stealing the book, but found guilty of handling stolen goods and jailed for eight years in July.
He was also convicted of taking stolen goods abroad.
The folio, which has an estimated value of £1.5m, will form the centrepiece of the Treasures of Durham University in the refurbished Wolfson Gallery from Saturday.
University head of heritage collections Sheila Hingley said she was shocked when she saw the damaged folio because, although she had not seen it first hand, she had seen photos and it had been in a good condition.
She said: "But when I saw it when it came back it was horrifying, especially having lost its title page, and that was what I really felt very strongly about because that was the destruction of some historical evidence that was very important."
The removed pages contained marks which showed the history of where it had been.
Ms Hingley said: "How anybody could vandalise a book like that I just do not know."
The folio is in such a condition that when it is touched another part of the sewing breaks and leaves come loose.
Ms Hingley said: "We are showing it as it is. I want people to see what a thief can do to destroy evidence on what I consider a work of art, certainly a work of history.
"But when it comes off display we will conserve it and make sure that it has a nice robust binding and will remain in the state it is is in now, it won't deteriorate any further."
The folio is one of the earliest examples of a gathering together of the playwright's work.
"It is quite likely that we would have lost quite a lot of the plays had they not been gathered in this folio volume," Ms Hingley said.