Durham Police axe leisure centre to save money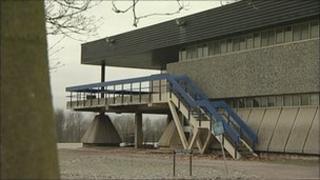 A cash-strapped police authority trying to deal with spending cutbacks is to close its leisure centre.
Durham Police-run Aykley Heads leisure centre, in Durham City, which was opened 30 years ago to help injured officers recover.
It has 1,100 members, but only 300 employed by the force.
A spokesman for the Durham Police Authority said it cost more than £330,000 a year to run and keeping it open was not "feasible".
It will close in March.
Peter Thompson, chairman of the Police Authority, said: "This is not a priority for us - policing is.
"We are having to look at our budgets very carefully and unfortunately the centre is costing us a lot in subsidies.
'Front-line policing'
"We've decided this year that we cannot afford to keep it running any longer.
"It can be seen as a choice between providing leisure facilities or front-line policing."
The centre has a 25m swimming pool, two squash courts and a gym.
Gym member, John Ashby, said he was disappointed with the decision.
He said: "Everyone agrees there needs to be more for young people in Durham to do and here we have a gym with enthusiastic people."