Sunderland World Cup hopes dashed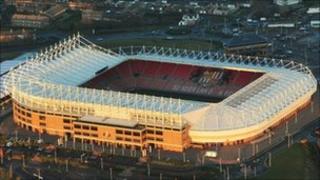 Hopes that Sunderland could play a part in the 2018 World Cup have been dashed, after it was announced that the tournament will take place in Russia.
Sunderland was named as a potential host venue, and Fifa officials visited the Stadium of Light in the summer.
Niall Quinn, Sunderland's chairman, said the whole community had backed the project and no more effort could have been made.
He added that the main components of England's bid "have been overlooked".
Quinn said: "We wish Russia well. I'm surprised they got it, I have to say.
"But having said that, we have to be good losers.
"I don't want to feel bitter at all but it's just a shame [when] what you think should be the main components of the bid have been overlooked."
'Real passion'
Newcastle was one of a further 11 cities hoping to play a part in the World Cup, either by holding matches or as a base for some of the national teams.
James Ramsbotham, chief executive of the North East Chamber of Commerce, said: "This is a blow to North East England, not least because of the benefits to the local economy that hosting an event of this scale could have brought to the area, but also because there is a real passion for the sport in this area of this country.
"However, we should not lose sight of the major business benefits that our two Premiership clubs continue to bring to the region.
"They are both key economic drivers and this bidding process helped to bring the clubs closer to the business community in their area.
"I would encourage both to continue to build upon the momentum and relationships that were established throughout the bidding process, and ensure that we capitalize on the opportunities that football brings to the North East."