Fresh hope for new River Wear bridge in Sunderland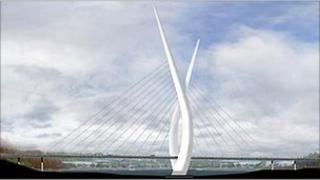 Plans to build England's tallest bridge across the River Wear in Sunderland are to be resubmitted to the government, despite a previous bid being shelved.
The 590ft (180m) high and 1,102ft (336m) long structure would link Wessington Way on the north side of the river to Pallion New Road on the south.
But the Sunderland City Council plan fell foul of government spending cuts.
The Department for Transport said any revised plan would have to compete for a share of a £600m pot.
The previous Labour government had promised up to £98m of the costs. But the coalition government shelved the proposal in the spending review.
Sunderland City Council leader Paul Watson said he was hopeful that a resubmitted bid for cash would be successful.
He said: "We are cautiously optimistic that we have a good case although the criteria has slightly changed.
"The thing is that we don't just have to make a case for the bridge now, we have to make a case in competition with other bids around the country.
"Congestion will get worse and car ownership will rise, so this bridge becomes more and more important to the economy of the city and the wellbeing of its residents."