Man-made refuge created for River Wear flood-risk fish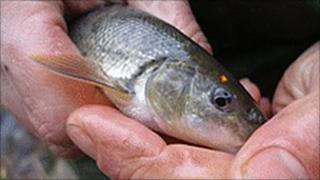 Efforts are under way to create a "haven" for fish which are threatened when the River Wear floods.
The Environment Agency is behind the scheme to create a channel of open water at Houghall near Durham where struggling fish can take refuge.
Heavy rain and flooding can lead to a fast-flowing river which flushes fish downstream, making it difficult for young fish to survive.
It is hoped the move will increase the numbers of barbel, chub and roach.
Fisheries staff at the Environment Agency have been working with anglers and landowners on the scheme.
By creating a refuge the team hopes it will give the fish somewhere to shelter when the river is high and fast-flowing.
Environment Agency fisheries officer Paul Frear said: "The haven is a sustainable alternative to restocking the river with fish every year.
"More fish in the Wear river system will help to attract more wildlife to the river banks, which in turn helps to make the area more attractive to local communities, anglers and tourists.
"This is a simple solution, which will help to bring benefits to both people and wildlife."
Wild flowers and trees will be planted around the area to encourage more wildlife, including otters.