Sunderland's Titus Bramble bailed over rape claim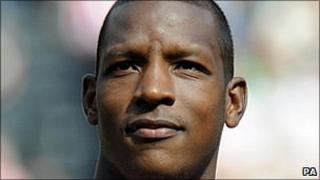 Sunderland footballer Titus Bramble has been released on bail after being questioned over the rape of a woman at a Newcastle hotel.
The Premier League defender and his brother, Tesfaye, were arrested at the Vermont Hotel on Wednesday after a 19-year-old woman complained to police.
Sunderland manager Steve Bruce said the club was "fully supportive" of Bramble, who has denied the allegation.
Bramble, 29, has previously played for Ipswich, Newcastle and Wigan.
A spokesman for Northumbria Police said two men, aged 29 and 30, had been bailed until December pending further inquiries.
Bruce confirmed Bramble had joined the team at a training session on Thursday. He said: "As far as Titus is concerned, the one thing he wants to do is play football.
"He was in training this morning. He is a resilient so-and-so."
Bruce went on to add that the club was "fully supportive" of Bramble. He added: "We will stand right behind him."
Bramble, a former England Under-21 member, joined the club from Wigan in the summer.
His older brother has played international football for Montserrat and in the Football League for Southend United and Stockport County.
He most recently played non-league football for Felixstowe and Walton United.