County Durham car park ticket scam discovered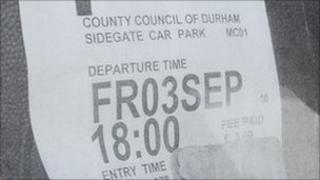 Four drivers have been cautioned after ticket wardens uncovered a "sneaky" scam at a Durham car park.
The wardens from the county council parking contractors, NSL, spotted the fake parking tickets on display in five vehicles three weeks ago.
They collected evidence and four of the cars were later seized by police at Sidegate car park. The drivers were cautioned on grounds of fraud.
NSL said it was the first incident uncovered by the firm in the UK.
The company works for about 60 local authorities.
Spokesman, Tim Cowen, said: "We have never heard of any drivers trying to cheat their way out of paying for parking by faking their pay and display tickets before.
"It is a particularly sneaky kind of crime, whereby these drivers were parking for free in spaces for which the vast majority of law-abiding drivers were perfectly happy to pay a reasonable charge."