Man dies after fall at Durham Cathedral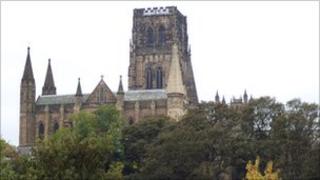 A man who fell while installing a new stained glass window at Durham Cathedral has died.
Michael Lassen fell from a ladder on 3 September and was taken to Newcastle General Hospital. He died on Wednesday.
No further details about the fall have been released and the Health and Safety Executive (HSE) is investigating.
There are plans to dedicate the new window, in memory of former Archbishop of Canterbury and Bishop of Durham Michael Ramsey, later this month.
Dean of Durham The Very Reverend Michael Sadgrove said: "Our thoughts and prayers are with Mr Lassen's family and friends following the very sad incident in the cathedral.
"The cause of his fall is not yet known and cathedral staff are co-operating fully with the relevant authorities as enquiries continue."
The new Transfiguration window has been donated by the Friends of Durham Cathedral.