Damage criticism for Durham congestion toll bollard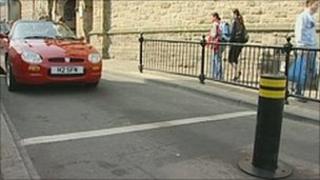 A bollard installed as a congestion-cutting measure in Durham's historic city centre has been criticised for damaging hundreds of cars.
Motorists have to pay £2 to exit a controlled zone, and drive over the retractable barrier.
Since the scheme was set up in 2002, almost 500 incidents of damage to cars have been reported.
Durham County Council said that the vast majority of incidents were minor, with most cases involving driver error.
Tina Leech, who runs a flower stall close to the barrier said many of those caught out were tourists.
"They are in left-hand drive cars, they don't get a ticket on the way in, and when they drive out they don't realise there's a toll," she said.
'Awful impact'
"When the car in front goes through they don't even see the bollard because it's flat, so they just drive through and it comes up under their car.
"I've seen two lots of tourists caught out in one day."
Fred Henderson, who runs a fleet of breakdown trucks, said: "It's a good little source of income for us, but it's very, very unfair to people.
"We've had calls from cars which have been written off.
"The impact is awful, even it it's only 2 or 3mph this nine inch diameter metal object comes out of the ground and it does stop the car rather quick."
David Wafer, traffic manager with Durham County Council, described the incidents of damage as "deeply regrettable".
He said: "We wish motorists paid more attention so we could get rid of that situation.
"As part of the transformation of the market place, we are going to move the bollard and make some changes to the road layout approaching it.
"We are fairly confident we can get this down to being a zero hit or a very minor number of hits."