Rare ducks stolen from Washington Wetlands Centre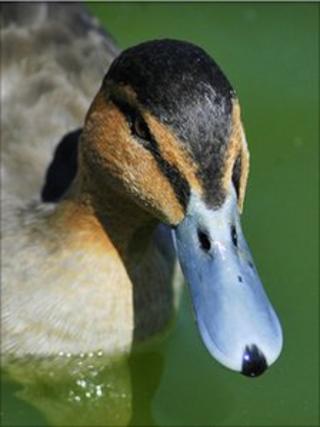 Eleven endangered ducks have been stolen from Washington Wetlands Centre.
The rare Philippine ducks were taken from the bird sanctuary at the centre, near Sunderland.
The break-in was reported to police on Bank Holiday Monday but officers say the ducks could have been stolen up to 11 days earlier.
The birds have a mostly black and chestnut head with a greyish-brown body. Police are appealing for information.
Neighbourhood beat manager Pc Richard O'Sullivan said: "We'd urge anyone with any information about the whereabouts of the ducks and who is responsible for stealing them to call the police."
According to the International Union for Conservation of Nature and Natural Resources there are only about 10,000 Philippine ducks left in the world because of over-hunting and the loss of wetland habitats.
'Sought after'
Washington Wetland Centre marketing manager Leanne McCormella said: "We are devastated by the loss of these beautiful birds, which were a notable breeding success for WWT Washington this year.
"Different species become valuable to private collectors at different times and Philippine ducks, which are part of the mallard family, are difficult to breed.
"This breeding season has been a particularly poor one for the species nationally and, unfortunately, this has made them more sought after.
"We still have our adult breeding stock and there are two remaining ducklings, which are now being transferred to our headquarters at Slimbridge, in Gloucestershire, to become part of their breeding programme."