Blow to bid to bring 1864 ship home to Sunderland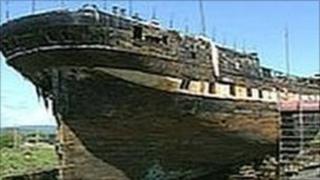 Campaigners fighting to bring the world's oldest passenger ship back to the city where it was built have suffered a blow.
The City of Adelaide was built in Sunderland in 1864 and has lain on a Scottish slipway for a decade.
Scottish Culture Minister Fiona Hyslop has now named a group from Adelaide, Australia, as the preferred bidder.
Campaigners from Sunderland said they would fight on to bring the ship back to the North East.
Ms Hyslop said: "The City of Adelaide has an illustrious past shared by two nations, Scotland and Australia.
"This bid gives us the opportunity to save the ship, build on that link and open up the potential for both countries to recognise partnerships and shared heritage on an international scale."
'Heartbreaking'
A report looking at options for the vessel was commissioned by Historic Scotland.
They were to deconstruct it for recording and display, relocation in Scotland and the bids from Sunderland and Adelaide.
Ms Hyslop said she was impressed and inspired by the commitment by the Australian and Sunderland bids.
Peter Maddison, chairman of Sunderland City of Adelaide Recovery Fund (Scarf), has been involved in the campaign to bring the ship back for 12 years.
He congratulated the Australian team but said they would not give up their campaign.
He said: "We will challenge the decision. We will continue to fight for the ship."
He said the decision was "heartbreaking" for many people in Sunderland.
'Still hope'
He said they were planning to talk to another North East council about bringing the ship to the region.
"As long as she is on the island, there's hope that she will be recovered, perhaps not for Sunderland, but for the North East," he said.
The City of Adelaide became a hospital ship in 1893 and in 1924 was converted to a training ship at Irvine and renamed the HMS Carrick.
In 1991, the vessel sank in Princes Dock, Glasgow, and lay at the bottom of the River Clyde for a year before it was raised and moved to Irvine.