No charges over fatal collision between bus and coach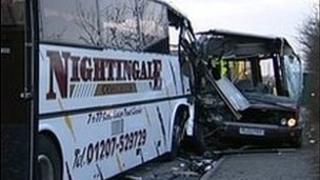 There will be no charges over a crash in County Durham in which one driver died, it has been confirmed.
The head-on collision at Newfield, Chester-le-Street, in March, involved a 28-seater bus and a 70-seater coach.
The driver of the smaller vehicle, Gordon Hutchinson, 58, died and coach driver Jack Hall, 51, was badly hurt.
Durham Police said Mr Hall's injuries were so severe there was no way of knowing if he became ill before the crash.
The CPS said there was insufficient evidence for any prosecution, a decision which Durham Police said it supported.
'Complex investigation'
Insp Ken Cook said: "What we couldn't establish definitively was whether Mr Hall was in a position immediately prior to the accident to physically have control of his vehicle.
"As a result of injuries he sustained during the accident they have masked any events that may have happened prior to the accident."
He said it had been a complex investigation and their inquiries had ruled out factors like mechanical problems, speed and mobile phone use.
Mr Hutchinson, from Chester-le-Street, suffered multiple injuries and died at the scene.
Three passengers on his bus were also injured.
Mr Hall, 51, from Stanley, was critically injured and is now recovering at home.
There were no passengers on the coach at the time.
An inquest is still due to be held.