Mariupol's Azovstal steelworks picture auctioned for charity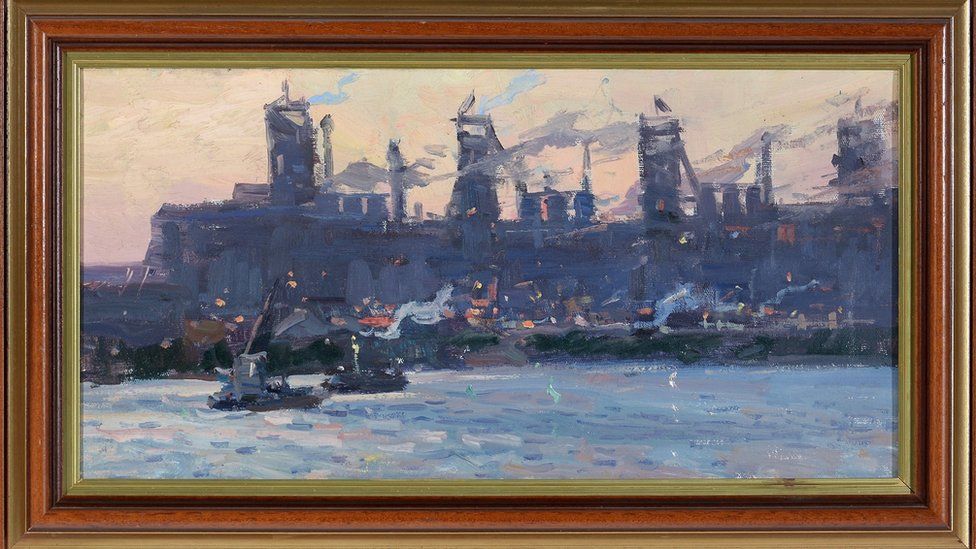 A painting bought in a junk shop of Mariupol's steelworks is up for auction with profits going to a charity helping those affected by the war in Ukraine.
The painting's unnamed South Shields owner paid $100 for it in the shop in St Petersburg in 1994, only knowing it was of somewhere in Ukraine.
It was only when he saw news footage of the conflict he recognised it as the Azovstal steelworks.
It is expected to fetch at least £500 at the sale in Newcastle on Thursday.
The owner of the painting - by Ukrainian artist Chernyakhovski Georgi Georgievich - said he had been based in St Petersburg when he spotted the industrial landscape in the shop and bought it because he thought it looked "dramatic".
He said: "It's been on my wall ever since, always with a question mark as to where it was - all they could tell me was that they thought it might be in the Ukraine somewhere.
"For 30 years I have wondered about the location, that is until two months ago, when Russia invaded the Ukraine and started to obliterate the Azovstal steelworks at Mariupol, making headline news here for weeks.
"Every time I see the picture on my wall I think of the horror of what the Russians are doing, and it really affects me."
The painting depicts the steelworks as it would have looked in 1966 Soviet times.
A few days ago the painting's owner said he was visited by an auctioneer friend and it was decided to sell the picture and donate all the proceeds to the charity With Ukraine.
He added: "I am delighted, that my 1994 speculative purchase will make a very small but vital contribution to benefit the oppressed Ukrainian people."
Art expert John Anderson, from auction house Anderson and Garland, described the painting as unique.
He said "It is perhaps one of the only remaining depictions of the Azovstal steel works in the Ukraine, as it stood before.
"Not only is it is superbly painted, but the work holds great historical significance too."
Related Internet Links
The BBC is not responsible for the content of external sites.