Protest at Derwentside women's detention centre over removal flights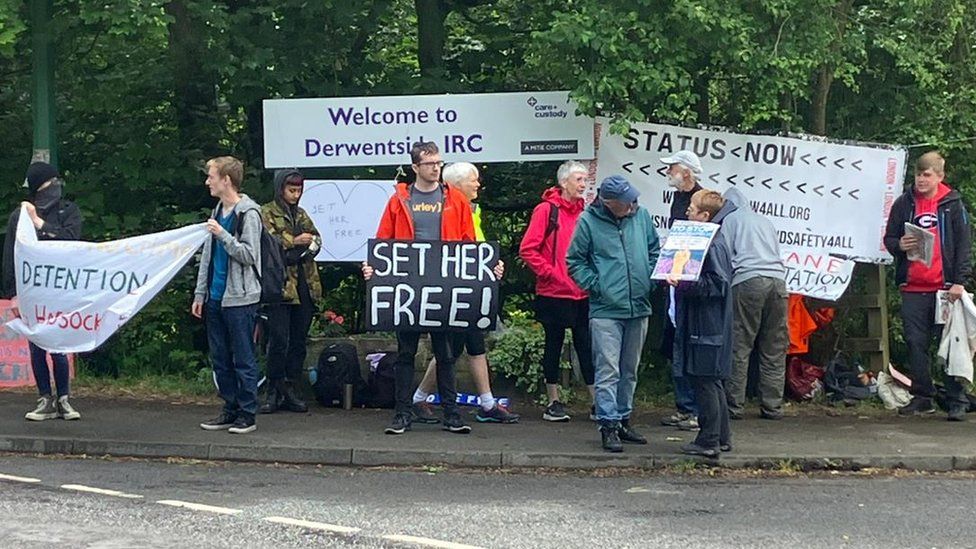 Protesters gathered outside an immigration detention centre for women over plans to send a number of inmates to Nigeria on a charter flight.
Demonstrators shouted chants of "set them free" and claimed those affected had been denied proper legal advice.
The Home Office denied they were unable to access support.
Protesters claimed the women would be flown from the UK to West Africa late on Wednesday.
They had said 13 women were due to be removed but later revised the number down to three or four. The BBC has been unable to confirm the number involved.
Two buses entered the site in Hassockfield, near Consett, early evening and one was later filmed leaving.
Buses leaving the Derwentside Immigration Removal Centre in Co. Durham tonight. Protestors had been demonstrating outside throughout the day to try and stop a group of up to 13 women being flown back to Nigeria tonight. Unknown how many asylum seekers were on board. pic.twitter.com/S68TS1SJLR

— Lee Johnson (@LeeJBBC) June 29, 2022
Five people were arrested on suspicion of obstructing a highway and remain in custody, Durham Police confirmed on Wednesday night.
It added 30 people took part in the demonstration.
The protest was backed by various groups, including Durham People's Assembly, Abolish Detention, No To Hassockfield and Women for Refugee Women (WfRW).
The groups said the demonstration was happening alongside efforts by WfRW, which has been at the Royal Courts of Justice to challenge the government over inmates' lack of in-person legal advice.
The charity highlighted the poor mobile phone reception inside the building and its isolated location, far from support available at other sites.
The protest groups said the Home Office had admitted there were 51 women detained at the unit and claimed "almost a third" of them "should not be there".
A WfRW spokesperson said: "The government chose to lock up women at Derwentside without provision for them to access in-person legal advice, which has severely damaging consequences for their cases."
The majority of inmates were "survivors of sexual or gender-based violence" who faced "particular difficulties" discussing their experiences, they added.
The charity argued that being denied in-person legal advice would compound the difficulties women face "since they will be expected to talk about what happened to them to someone they have never met over the phone".
It blamed this "on the shortage of legal aid providers operating in the North East of England".
The Home Office said the flights were not "deportation" as that was only for people who had been convicted with a prison sentence of at least two years.
Emma Pearson, from No To Hassockfield, said: "Deportations are violent, racist, and traumatic. They lead to the tearing apart of families, they push people into danger, and they have life-long implications on individuals.
"We've heard of a woman who is in her 60s who has been in the UK since the 1980s and has chronic health conditions.
"Another, over 50 years old, been in the UK for over 20 years who is a victim of torture and who also has severe health issues. Many of the women scheduled to be on this flight are not only being unlawfully detained as a result of not being able to access legal support, but also unlawfully deported."
Calling the charter flight "a huge mistake", she added: "The airline facilitating this flight, the Home Office, and Priti Patel should all be deeply ashamed."
A Home Office spokesperson said: "The public rightly expects the government to remove dangerous foreign criminals and those with no right to be in the UK.
"All asylum and human rights claims are carefully considered in accordance with our international obligations.
"Individuals at Derwentside have always been able to contact their legal representatives easily by telephone, email and video call - and also receive 30 minutes free advice through the legal aid scheme. Meetings in-person are also now able to take place on request."
Related Internet Links
The BBC is not responsible for the content of external sites.