Book of Mormon: Newcastle audiences greeted by real church elders
By Francesca Williams
BBC News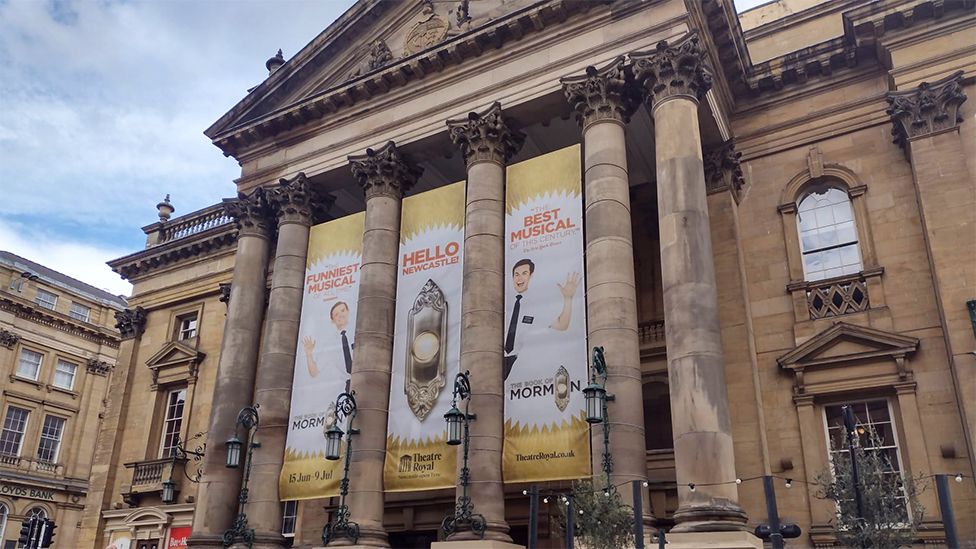 Mormons have used a bawdy and risqué musical which pokes fun at their church as an awareness-raising opportunity.
The Book of Mormon, which satirises The Church of Jesus Christ of Latter Day Saints and religion in general, is playing at Newcastle's Theatre Royal.
Theatregoers said church members approaching them afterwards looked so much like the characters they "thought it was still part of the show".
Church elder John Deacon said protest was not "something we engage in".
The intention was to inform and "spark that conversation", rather than recruit, he said.
Amy, from Newcastle, said the "elder" name badges and "pristine shirt, tie and hair" made her think they must be cast members.
"They gave me a huge smile and asked me if I enjoyed the show," she said.
"But when I looked at the leaflet I realised they were the real deal."
Written by South Park creators Trey Parker and Matt Stone, the multi-award winning show follows two mismatched missionaries sent to convert people living in a village in Uganda.
Mr Deacon, a North East elder, said his church neither supported nor opposed the show.
"Sometimes opposing approaches create divisions and, as a church worldwide and locally, the last thing we want to do is create divisions," he said.
"If people want to go to a theatre and watch a musical, whether we agree with its content or not, then people are absolutely free to do that and it's not really our job to tell people what they can and can't do."
Amy said she "did not expect such a forward thinking approach" from the church.
"It made me think they have a sense of humour and they're game for laugh, that they're jumping on a good opportunity to connect, as if they think no publicity is bad publicity," she said.
Karen, from Newcastle, who also saw the show, thought it was "quite clever" to try and have a conversation with people rather than protesting against it.
"It got me thinking and talking about the religion to other people," she said.
"But I won't be joining it anytime soon."
Nor will Mr Deacon be going to see the full show, although some church members have, he said.
He has watched clips online to have "a little bit of insight in order to have conversations like this" but says "theatre tickets are pretty pricey these days - it's just never been a priority for me".
Related Internet Links
The BBC is not responsible for the content of external sites.