Tyneside EE call centre owner BT denies staff need food bank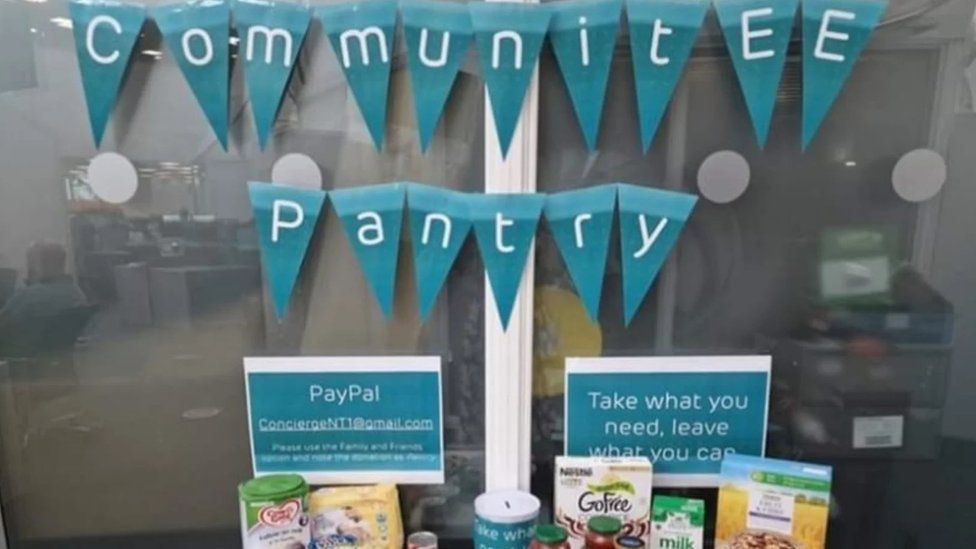 Communications giant BT has denied claims a food bank has been set up to help struggling call centre staff.
The Big Issue first reported staff at the North Tyneside EE site, owned by BT, had introduced the Tyneside CommunitEE Pantry.
BT denied it was a food bank and said it was set up to help staff struggling to get to the shops or canteen.
The Communication Workers Union (CWU) insisted it was a food bank and was an example of low pay.
A photo of the CommunitEE Pantry shows it offering staples such as pasta, sauce, cereal and beans along with baby formula and long-life milk.
There is also a collection tin on the table.
BT said some members of staff had set up collection points in offices for donations for local food banks.
The company said staff in North Tyneside had also begun a small collection of household items for colleagues who did not have time to visit shops or worked outside of the canteen opening hours, the company said.
"Colleagues then replace the items for others to use and this shouldn't be confused with a food bank," a spokesman said.
But the union said frontline workers were "struggling to get through the cost-of-living crisis" while the BT group made profits of more than £1.3bn and paid £700m to shareholders and £3.5m to its CEO.
"BT pride themselves on being a blue chip company," a spokesperson said.
"They can't claim that whilst handing out charity rather than proper wages."
Affected customers would pay an extra £3.50 a month on average from the end of March, it said.
The union is balloting for strike action.
Related Internet Links
The BBC is not responsible for the content of external sites.