Danny Humble: Murder accused 'hit victim in self-defence'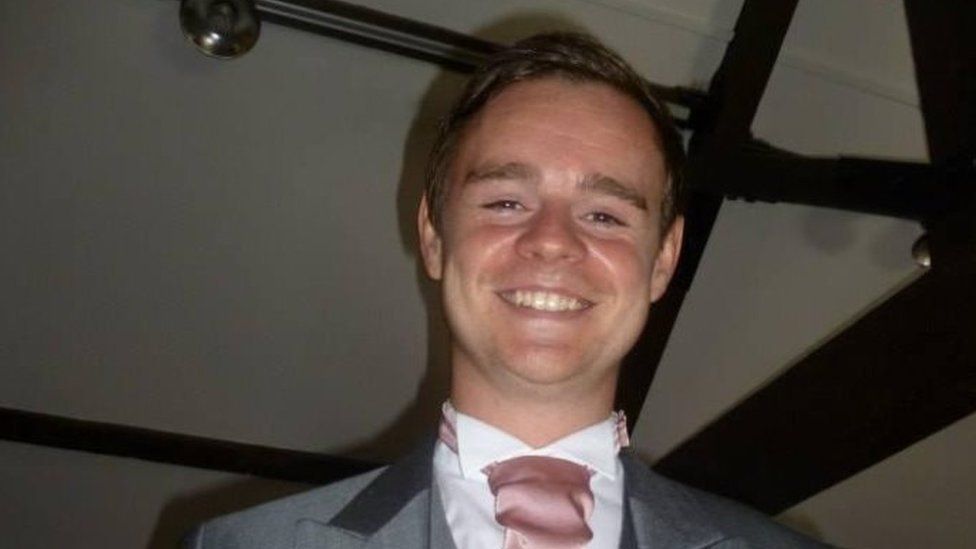 A boy who triggered an attack which killed a man during a night out acted in self-defence, jurors have heard.
Danny Humble, 35, was "swarmed" by a group in Cramlington, Northumberland, in May last year, Newcastle Crown Court has been told.
Lawyers for the five have begun their closing arguments to the jurors.
Mr Humble and his partner were on a night out when they encountered a group at an underpass.
The boy punched back but his friends then knocked Mr Humble down and "overwhelmed" and "swarmed" him with kicks, punches and stamps, prosecutors claim.
Jacob Hallam QC said the "actions of the team killed Daniel Humble" and "showed intent of causing really serious harm".
He said the evidence points towards Alistair Dickson, 18, as inflicting the fatal stamp to Mr Humble's neck but the others "encouraged [Mr Dickson's] actions and facilitated them".
The prosecutor said it was "not a case of self-defence" but rather one of "the anger of a group of young men at the actions of a drunken stranger who they believed had insulted or assaulted one of their friends and who they decided to teach a lesson".
Peter Makepeace QC, for the 17-year-old, said his client, who was then 16, admitted "delivering a punch" in self-defence.
He told jurors they could be "100% sure" that the Ant and Dec joke was "good natured".
Mr Makepeace said the evidence Mr Humble then hit his client "out of the blue" was supported by multiple witnesses.
The issue for the jurors to decide, Mr Makepeace said, was identifying what his client did in the "fast-moving and chaotic" seconds after the punch.
He said witnesses all had differing recollections of what happened and any "identification was not safe".
The detective who reviewed footage could not identify the attackers by their facial features and instead "had to fall back on" the clothing worn by those involved, the court was told.
Mr Makepeace said "not a single witness" had picked out his client, despite his "really distinctive" attire.
Pathologist Dr Nigel Cooper found 15 external injuries only four of which could be identified as being caused by "blows" which was a "million miles away" from the prosecution's "picture", jurors were told.
Mr Makepeace said it was a "horrible happenstance" that a single stamp caused Mr Humble's head "to move in a particular way that sheared an artery deep in the neck", and all the other injuries were minor.
He continued: "Because [his client] was in the crowd he has been presumed, assumed, superimposed on the actual violence that was taking place."
Sharon Beattie QC, representing Ethan Scott, 18, who has admitted punching Mr Humble, said the then 17-year-old had reacted to Mr Humble's "out of the blue" punch.
She asked jurors to "judge" his actions against the speed of the attack - which lasted 15 seconds- adding her client did what he "genuinely believed it was necessary in defence of [the boy] and himself".
Ms Beattie also said that prosecution witnesses had been "hampered" by "drink, distance, shock and speed".
Prosecutors said a Snapchat message Mr Scott sent in the aftermath in which he said "gonna be bad this, gonna do time", was a confession.
But Ms Beattie said that was both an unrealistic and unfair interpretation, adding that he was a 17-year-old boy who "knew he had, and had already said he had, punched a man who had died".
The trial of the 17-year-old, Mr Dickson, Mr Scott and Bailey Wilson all from Blyth, and Kyros Robinson, from Seaton Delaval continues.
Related Internet Links
The BBC is not responsible for the content of external sites.