Triathlete's bike missing between Newcastle and Heathrow flights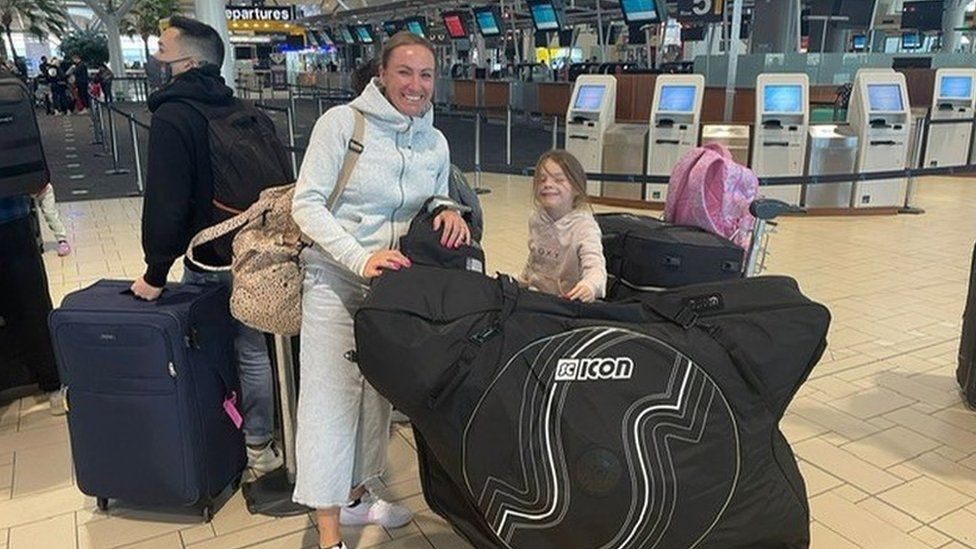 A triathlete who flew from Australia for an Ironman UK event says she fears not being able to take part after her bike went missing between flights.
Sian Hurley, originally from Morpeth, flew to Newcastle International Airport with her family via London on Monday.
Their luggage made the connection but the bike and other equipment have been missing at Heathrow's Terminal 2 since.
British Airways (BA) said it wanted to help Ms Hurley but transferring luggage was Malaysia Airlines' responsibility.
Malaysia Airlines and Heathrow have been approached for comment.
Ms Hurley, who is due to take part in the event in Bolton on 3 July, said she was "stressed and disappointed" and needed her bike urgently to continue training.
Ms Hurley and her family left Brisbane at the weekend on a Malaysian Airlines flight - via Kuala Lumpur - to London Heathrow.
They arrived at Heathrow's Terminal 2 and caught their BA flight to Newcastle from Terminal 5.
Ms Hurley said she knew her bike had not left Terminal 2 since because she had a tracking device attached to it, even though she said officials had assured her it had made the connecting flight.
Some passengers had to fly without their bags while others reported two-hour delays at baggage reclaim.
Ms Hurley said she had called both airlines daily for information since Monday.
Ms Hurley said: "There is no sense of urgency from Heathrow, but I have one as I have to build my bike and get training on it.
"Every day I'm not training I'm losing time - it's utterly disappointing and very stressful."
"I haven't seen my family for three years and they've missed the kids growing up and now I'm back here I just can't relax and enjoy my family time," she added.
Ms Hurley, who works full time as an intensive care nurse in Brisbane, has spent 12 months training for the Ironman UK competition, which involves a 2.4-mile swim, 112-mile bike ride and a marathon-distance run.
Her daily training regime includes daily cycling for four hours, running for two hours and swimming 3km.
Ms Hurley has competed in six Ironman events in the past, including the World Championships in Hawaii in 2014, but after having her two daughters and turning 40, she decided to enter the UK event in Bolton.
She said: "I've always ran since the age of 11 but a few years ago I broke my ankle and took up cycling and love it, I love the whole endurance of Ironman, pushing my body to its limits, being fit and being a good role model for my kids.
"But every day I'm off my bike I worry about my training."
A British Airways spokesman said they would try to help Mrs Hurley but said getting the luggage from one terminal to another at Heathrow in this case was the responsibility of Malaysia Airlines.
Malaysia Airlines has been approached by the BBC for comment.
Related Internet Links
The BBC is not responsible for the content of external sites.